Central Chile - Kayaking
Andean Kayaking: Kayaking - Full Day - Easy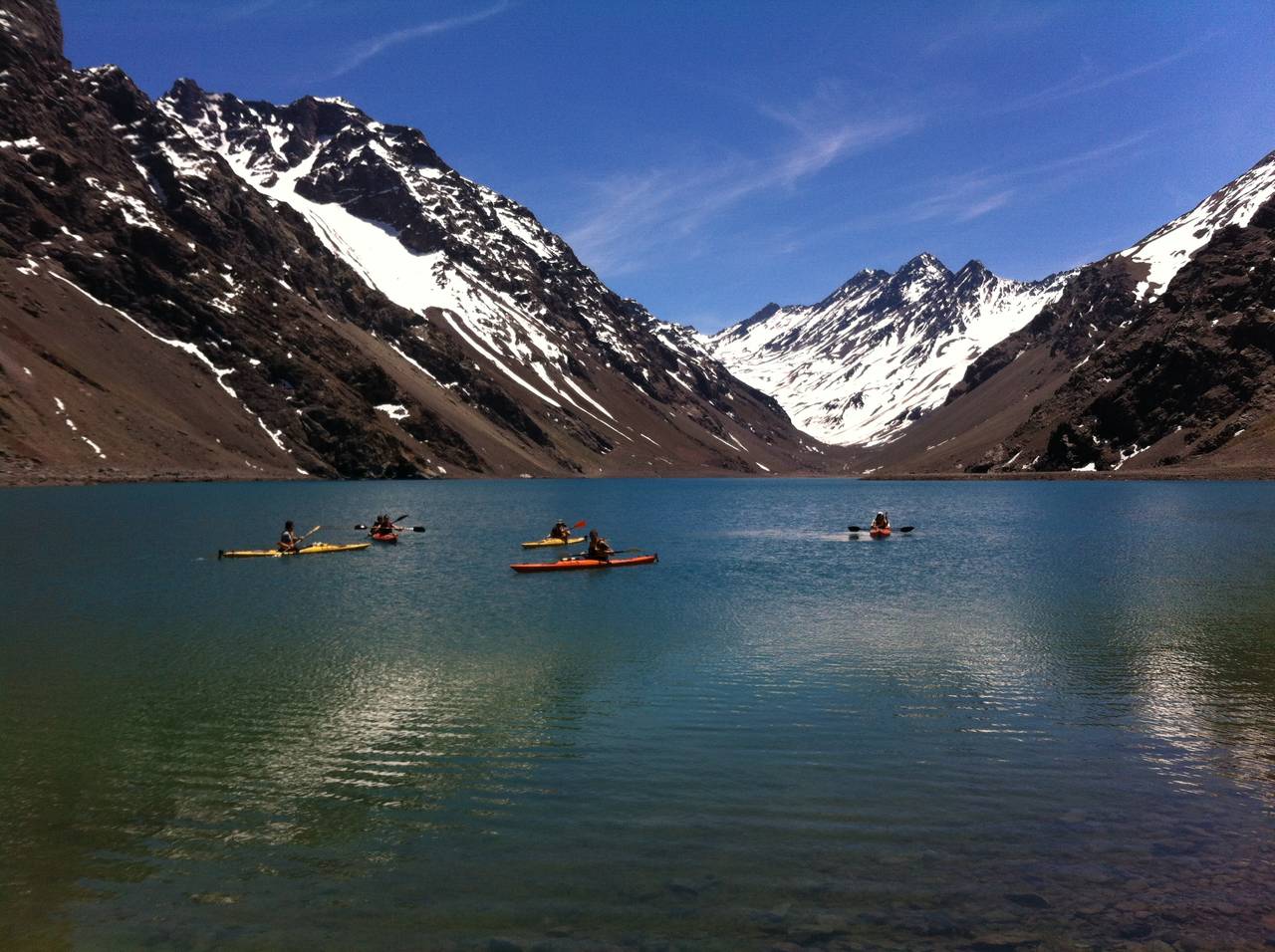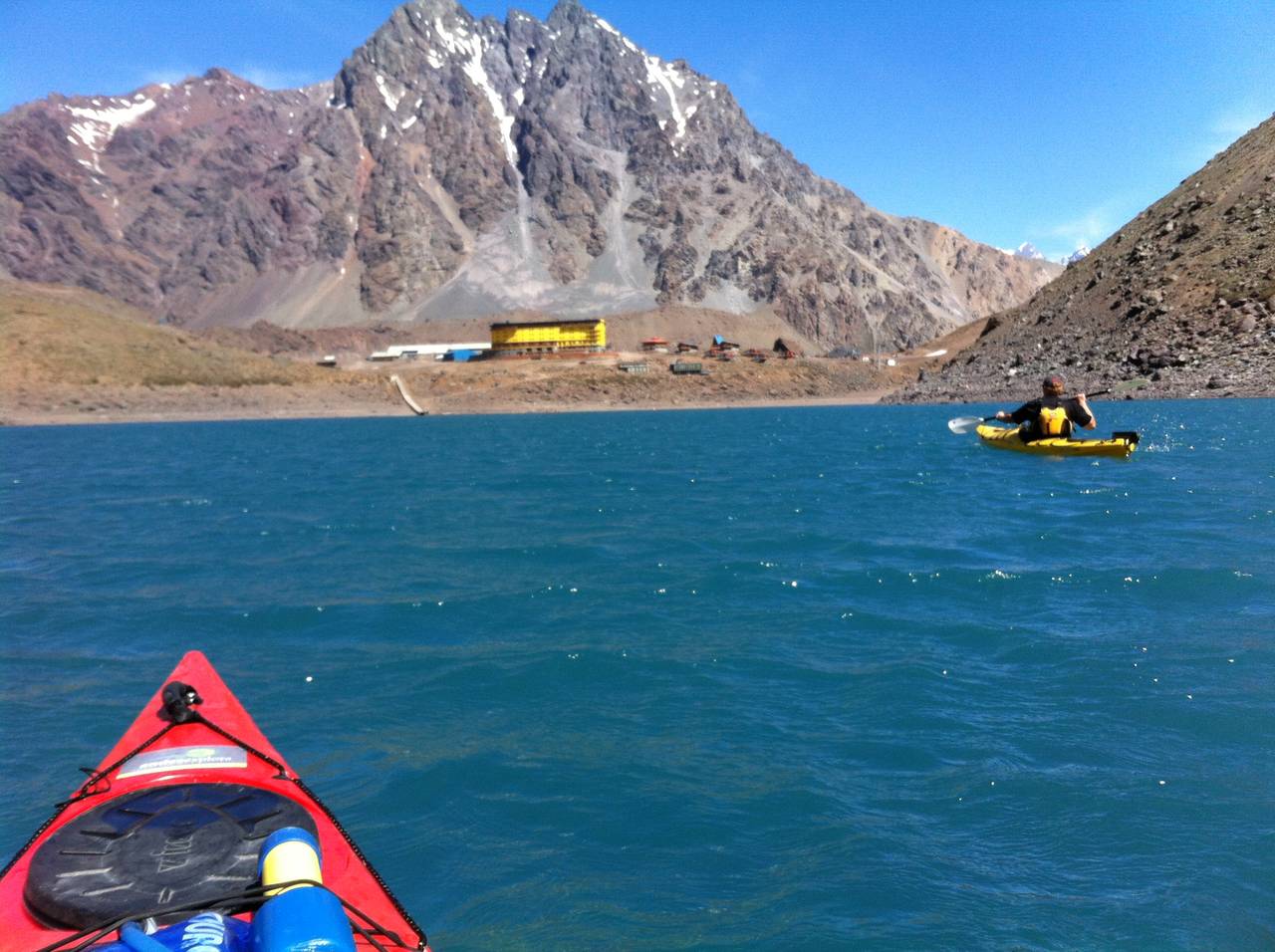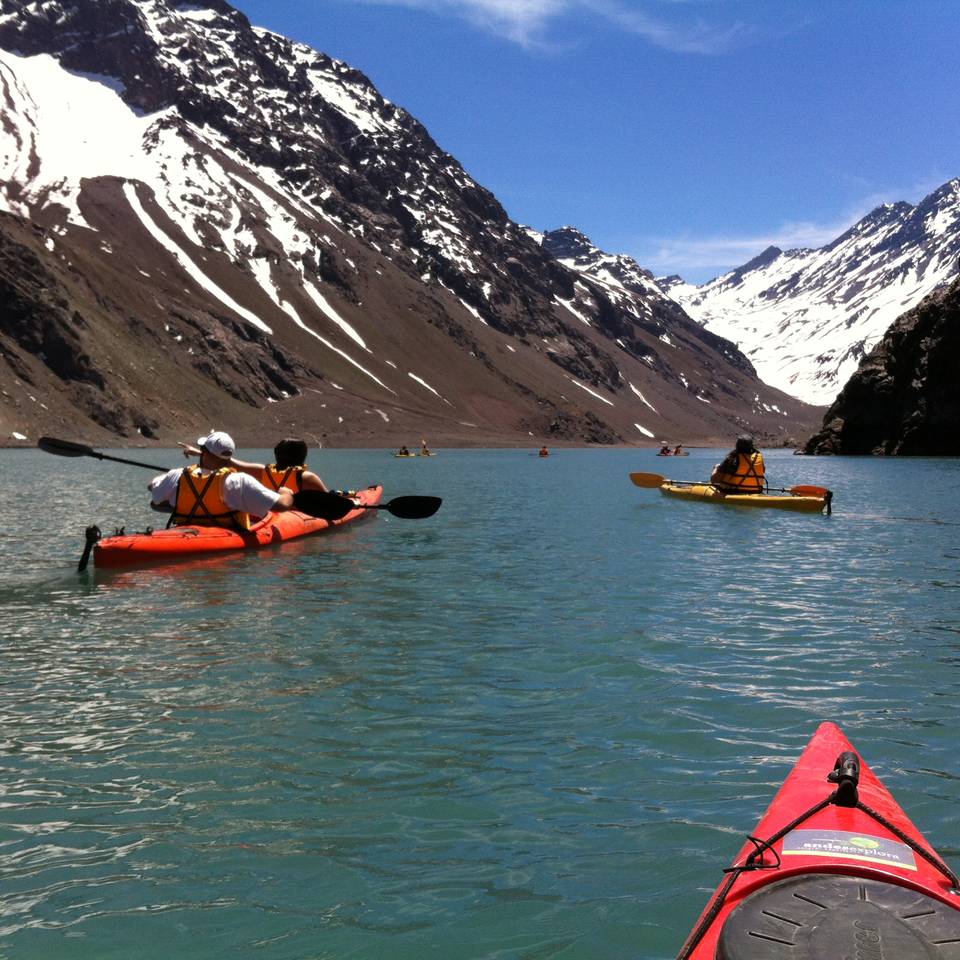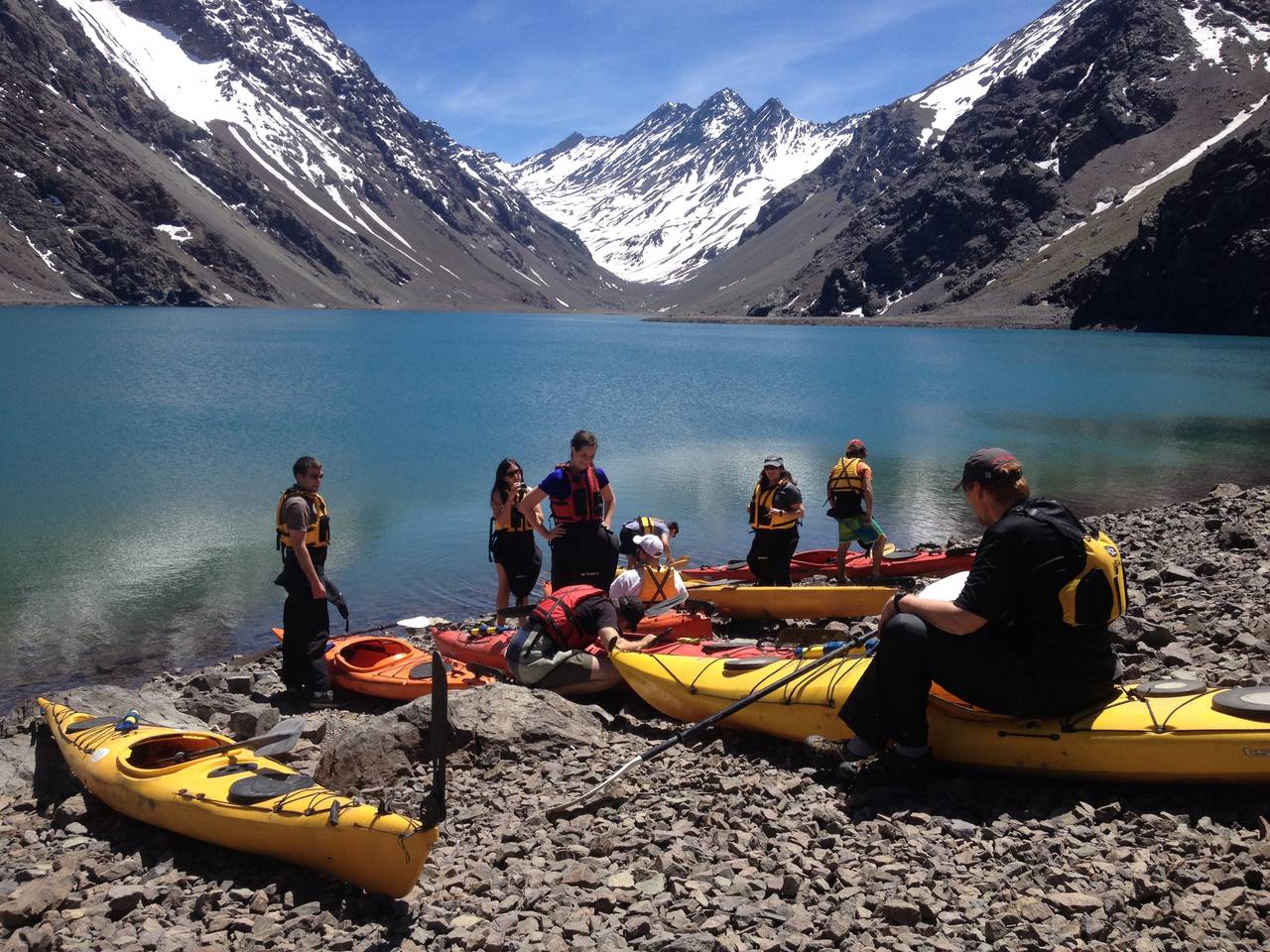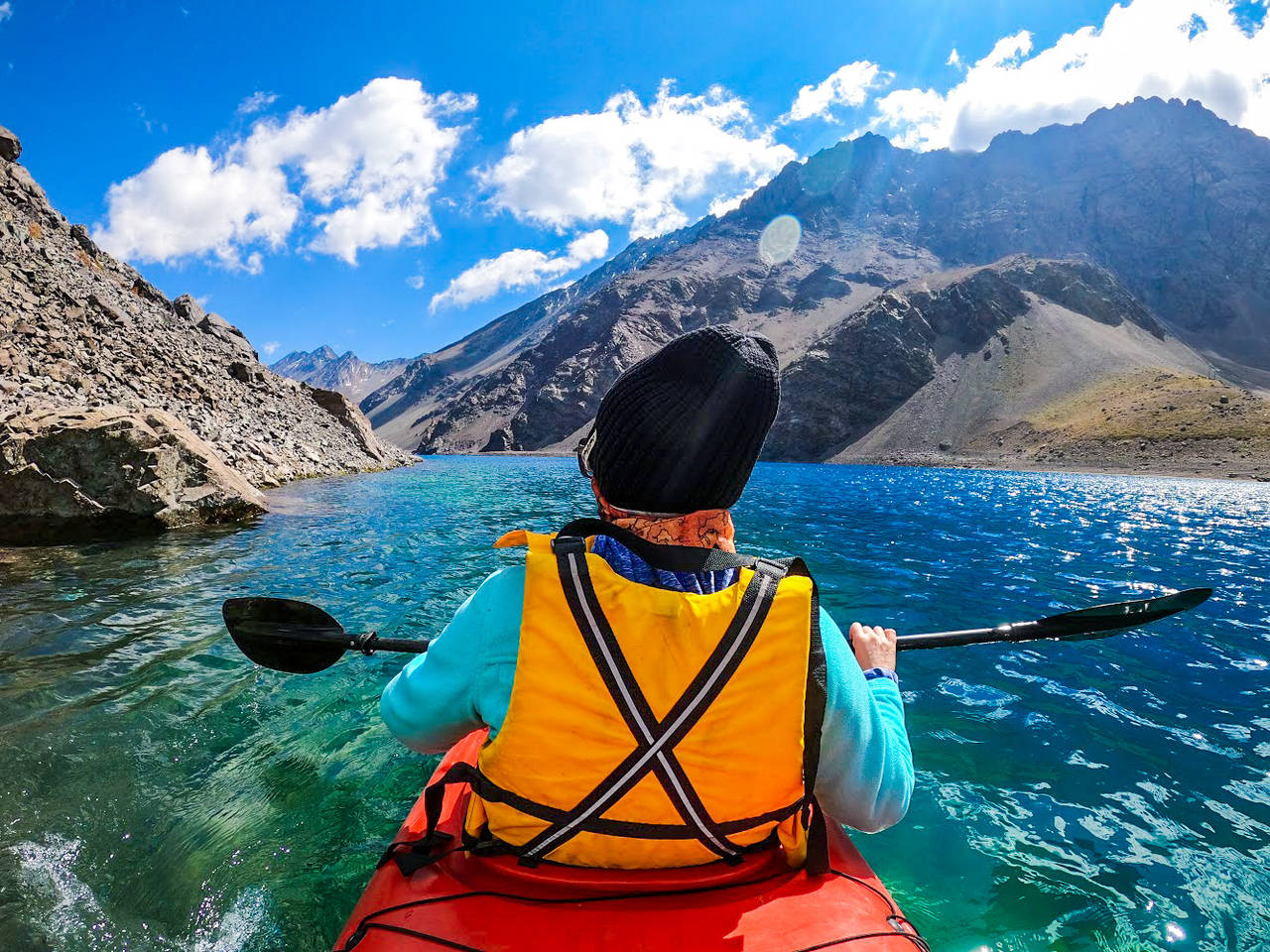 Do you know how does it feel paddling at 9200 ft between summits of more than 15000 ft?

Paddle with us, on a terrific trip around Laguna Del Inca in the heart of the Central Andes. The lagoon has an amazing emerald watercolor and is surrounded by huge and steep peaks. Enjoy views of Aconcagua Mount (21.00 ft) on the run!
Take a breath and come to discover what's behind those magnificent mountains!
Location
Santiago, Chile
---
Difficulty
Easy
---
Paddling time
2,5 hours including resting time and a very relaxed pace
---
Transportation time
2,5 hours of transportation on the car from Santiago to the beginning of the path.
---
Technical data
11 nautical miles round trip/ Altitude 8200 ft.
---
Season
October to May
---
Requirements
The age of participants must be between 14 and 75 years old. The physical and medical conditions must be compatible with activity. Know how to swim (When in doubt, please ask). It doesn´t require previous kayak experience.
---
Itinerary
The times on the itinerary below are an approximation of the schedule. These times could vary depending on the weather and the speed of your group. A more accurate pick -up time will be delivered once we receive your pick -up address obtained through the booking process.
7:00 Transport from your hotel or meeting point in Santiago.
8:00 We will leave the highway and we'll be heading to the east getting deep into the Andes. You'll see views of Aconcagua and high peaks
9:30 Arrival to Laguna del Inca and download of the kayak equipment from the truck and set the gear at the shore.
10:30 Paddling around the shore of the lagoon. We'll enjoy the huge summits around us and the emerald waters.
11:30 Rest and snack time at the opposite shore.
12:30 Second half of the paddling exploration.
13:30 Upload of the kayaking stuff to the truck.
14:30

Return on our private transport starts.

17:00 arrival to your hotel or meeting point in Santiago.
Warning: This activity could include paddling in windy conditions as well as choppy water, driving by land roads with projections, sudden changes of weather, paddle under the strong sun.
---
What's included
Private transportation between all the points.
Guides: 1 each 4 clients
Kayaking gear: kayak, paddle, dry bags, spray skirt, bilge pump
Lunch Box (bottled water, granola or energy bars, sandwich, fruits, cookies, chocolate)
Park fee
First aid kit
VHF Radio and Satellite Phone
What's not included
Personal Clothing (Please check "Gear")
Small backpack (Rent available for 10 USD)
Personal Insurance
---
What to bring:
Summer:
* Ask for rental gear.
Sport t-shirt
Polar Fleece or similar
Wind jacket or waterproof jacket.
Hiking pants or shorts. Swimming shorts works well too.
Hiking shoes
Sandals to wear inside the kayak. Crocs or Bammers are ideal. As an option you could bring neoprene surf shoes if you have.
Sunglasses
Sun hat/ lip balm
Sunscreen
Extra layers in case you get wet
Autumn or Spring:
Summer gear
Down or puffy Jacket
First layer upper and lower body
Liner gloves
Wool hat
Balaclava/ Neck gaiter
Recommended Mix
If you are traveling around Santiago we recommend to take this other great trips