Patagonia
Torres del Paine Pack: Multi Activity - 7 Days - Hard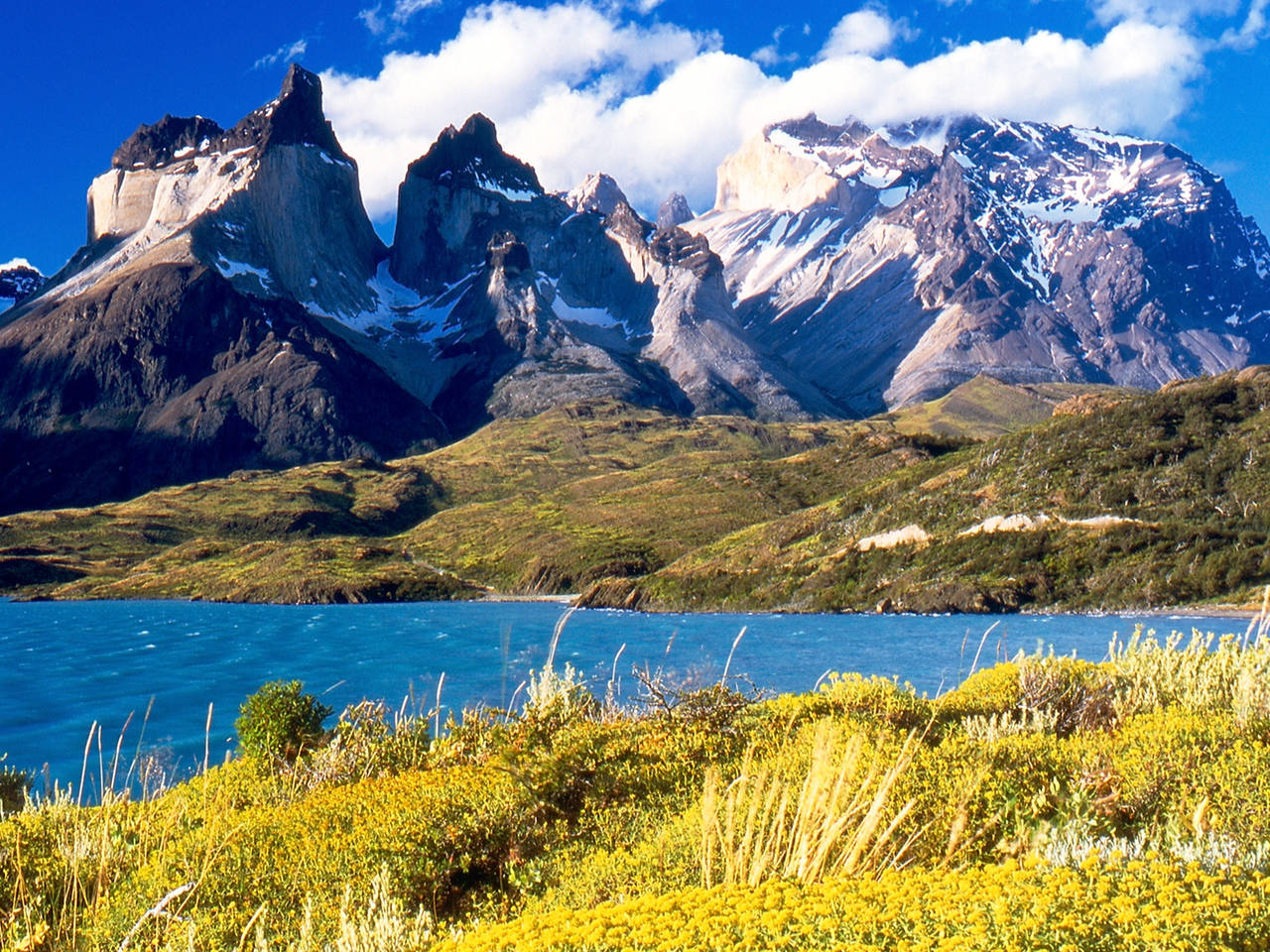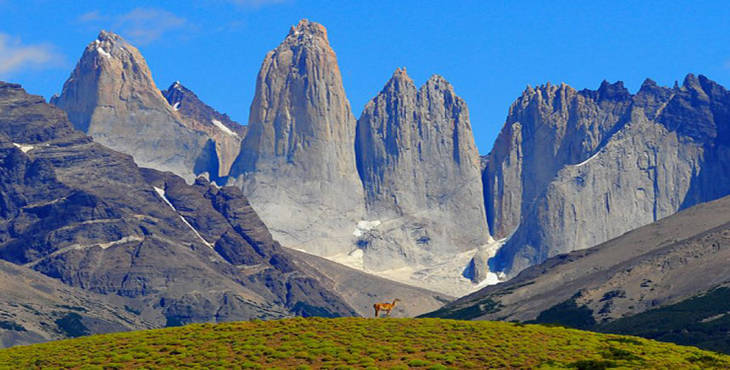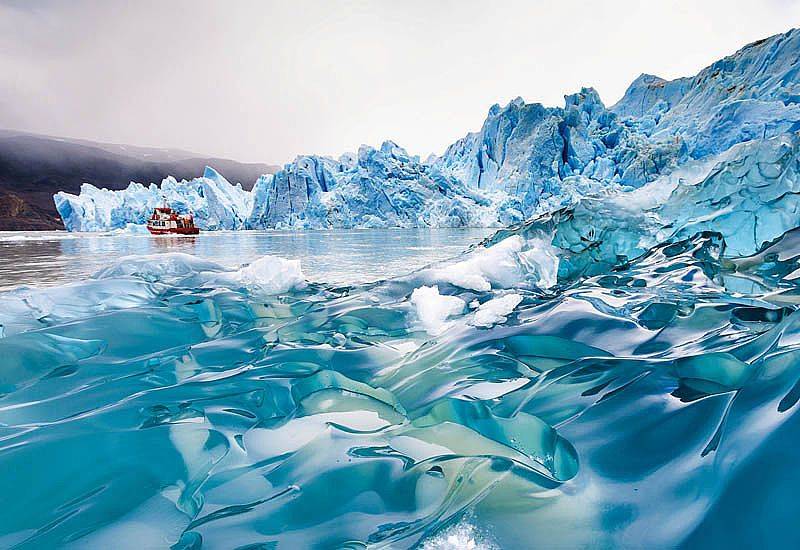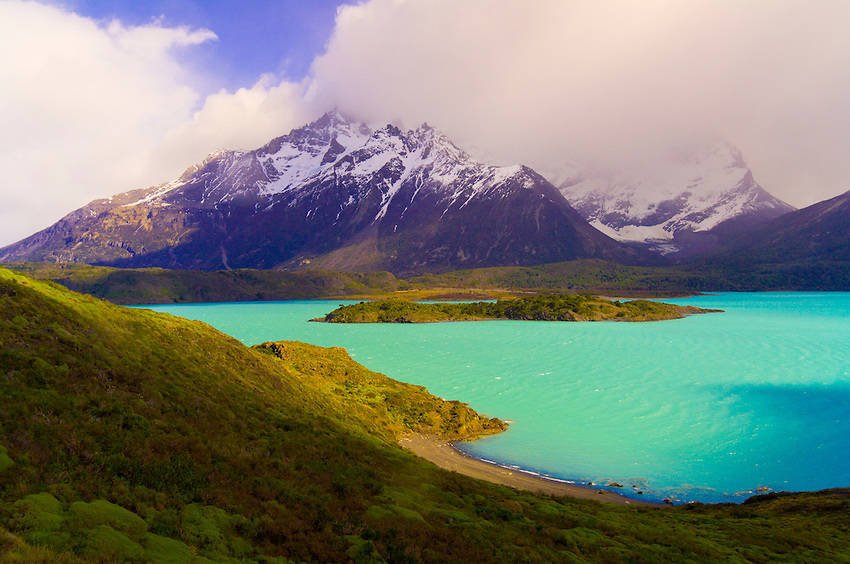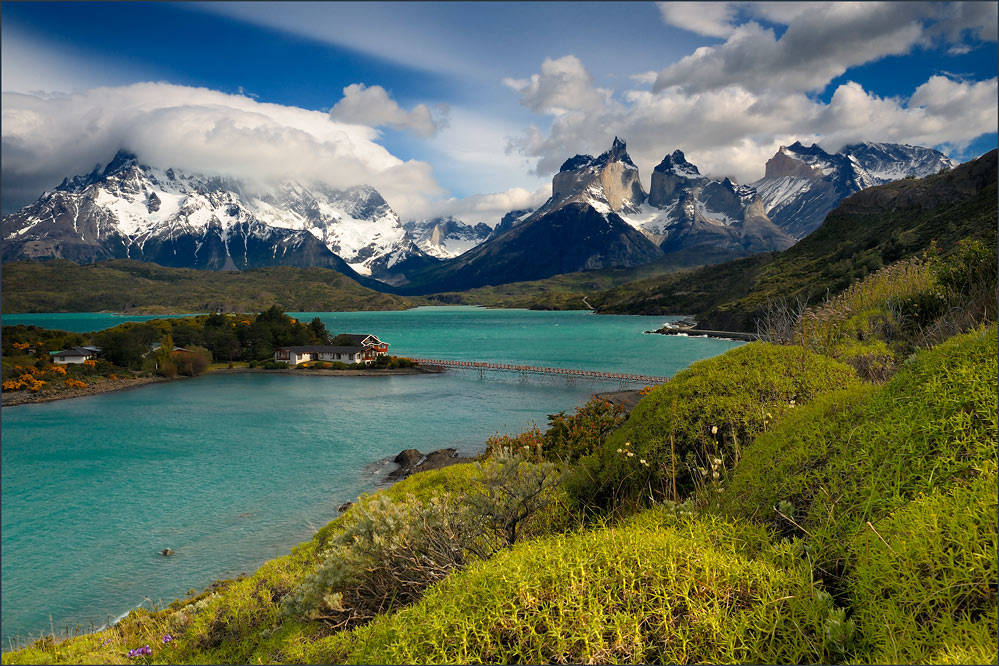 The Torres del Paine National Park is located in Patagonia, Chile and one side of the ice fields in the south, it is located in the most beautiful landscapes of the world for its extraordinary diversity and natural beauty. It was declared a Biosphere Reserve by UNESCO in 1978. The extraordinary geography and its landscape almost become a unique place, ideal for nature lovers.

Highlights: Granite Towers Base / French Valley / Gray Glacier / Pehoe Lake

Options: We are very flexible. Ask for a customized tour.

Day to Day Itinerary:
Day 1: (Rated-Easy)- Flight to Patagonia + Penguin Colony Trip to Isla Magdalena Transfer to Hotel-Punta Arenas. Pickup from Santiago hotel and transfer to Santiago (SCL) airport for flight to Punta Arenas where your local guide will be waiting. Transfer to hotel, lunch on your own, then transfer to the dock where you board the ferry for 2-hrs to Magdalena Island and the largest penguin colony in Chile. You have about an hour to explore the beautiful isolated island on foot, including "The Lighthouse" environmental interpretation center, and over 120,000 Magellanic Penguins. Located 32 km northeast of Punta Arenas, in the middle of the Strait of Magellan, Magdalena Island is a must for animal lovers This island has been a protected area since 1982, in which it was renamed "Los Pinguinos Natural Monument". It has an interesting ecosystem, with more than 60,000 penguin couples, as well as other species, including cormorants, which come to reproduce during the summer. Return to Punta Arenas – Hotel. Overnight Punta Arenas.Included: Flights / Local Guide- driver / Snack - Bottled water / Hotel 3 to 4 stars with breakfast / Guide / Bottled water / Penguin Trip / transport between all the points. (B)
Day 2: (Rated-Easy) Puerto Natales by the scenic route & Milodon Cave Hike with Cerro Benitez Lookout 9 AM. Transport 2.5 hours by van to Puerto Natales for lunch. Then continue by van to Milodon Cave, a huge cavern more than 200 meters deep, 80 wide, and 30 high. More than 15,000 years ago the cave was inhabited by what are now large, extinct animals such as the mylodon and jaguar, and was probably a popular hunting site for the native inhabitants. The Milodon Cave became known to the world a little over 100 years ago in 1895 when the settler Eberhard Hermann visited the cave and found a strange skin with thick hairs. It was determined to be the fur of a large extinct sloth, known as a Milodon. This led to numerous scientific expeditions and looters looking for remains to sell to collectors and museums, mainly in Europe. In 1968 this area was declared a Historic Monument by the Ministry of Education, and in 1993 became the Milodon Cave Natural Monument (Monumento Natural Cueva del Milodón), joining the System of Protected Areas of the State. Included: Local Guide - Driver /Snack - Bottled water / Hotel 3 to 4 stars with breakfast / Guide / Bottled water / Milodon Cave Park Fee (B)
Day 3: (Rated-Strenuous) Transport to Torres del Paine National Park and Hike to the base of Granite Towers. The first 1.5 hours of hiking is steep with fantastic views of Lake Nordenskjöld and Almirante Nieto Mtn (2,670 m), with its hanging glacier, until you reach Refugio El Chileno. Follow the trail through a millenary Lenga Forest (1 hour) to the base of "the moraine." Hike up a challenging ascent (45 min), which takes you to one of the most impressive lookouts in the park: "Base of Torres del Paine" where you will enjoy the view of Torre Sur (9350'/2,850 m.), Torre Central (9186'/2,800 m.), Torre Norte (8530'/2,600 m.) and Cerro Nido de Cóndor.(18 KM/12.6 miles & 2460'/750m ramp / 8-9 hrs approx). Hike the same trail back to the trailhead and your hotel. Included: Local Guide-driver /Box lunch -bottled water / Hotel 3 to 4 stars with breakfast/transport between all the points / Torres del Paine N.P Fee. (B, L)
Day 4: (Rated Strenuous) Drive to Pehoe Lake and take a boat to navigate through the lake. Amazing Views of the Paine Horns from the Emerald waters. Hike to French Valley (13miles/20km- length / 360 Mts. ramp/ 7 to 8 hrs approx.) The first 2 hours are up and down with extraordinary views of Nordenskjöld Lake. The ascent goes for about 1 hour and a half to the French Glacier lookout, where you'll be able to observe a hanging glacier and possibly small avalanches. The trail continues to "Campamento Británico" and after about 20 minutes you will reach "Mirador Británico," the lookout point considered by many to be one of the most overwhelmingly beautiful spots in the Circuit. We enjoy short rest with views of "Paine Grande", "Cerro Hoja", "Cerro Máscara", "Cerro Catedral", "Cerro Aleta de Tiburón", "Cuerno Norte". The return hike is the same way back to "Campamento Italiano", and then to Pehoé sector. (B, L) Included: Local Guide-driver /box lunch / Hotel 3 to 4 stars with breakfast /transport between all the points / Torres del Paine N.P Fee (B, L)
Day 5: Grey Lake navigation + Glacier Hike
(Rated Strenuous - due to technical nature of glacier travel (hiking on ice), not recommended for people with bad knees or backs. Challenging. Good physical fitness required. No prior experience with Glacier Travel needed)
Navigation to Grey Glacier is one of the most captivating excursions of the Torres del Paine National Park. This part of the trip allows everyone to enjoy a unique combination of floral landscape, lush greenery, and imposing mountains in a 1-hour navigation along the glacial lake. On the other side of the lake next to the glacier, you begin the Ice hike which is approximately 5 hours round trip (incl. rubber boat transfer, walking onto the island called Islatak, to access the ice most safely) It's like an expedition from a former era. After walking on Islatak for about one hour, you will reach the glacier. The guide will prepare you with an ice ax, crampons, helmet, and harness. Then we start the exhilarating ice hike adventure walking around for 2.5 hours on the Grey Glacier, observing cracks, rivers, lagoons, and tunnels.
Local Guide-driver /Box lunch -bottled water / Hotel 3 to 4 stars with breakfast /transport between all points / Torres del Paine N.P Fee /Grey Navigation / Ice Hike (B, L)
Day 6: (Rated-Easy) Navigation by boat to Serrano and Balmaceda Glaciers in O'Higgins National Park: By boat, we navigate through the Balmaceda and Serrano Glaciers "Round Trip" with lunch included. Once you disembark, the navigation into Última Esperanza Fjord towards Bernardo O'Higgins National Park begins. The destinations are Balmaceda and Serrano Glaciers. During the voyage the history of Puerto Natales is narrated (Frigorífico Bories National History Monument) and we will head then to Condores Cascade and cliffs. The voyage continues to Balmaceda Mount, where you will see the Glacier. We then continue along the route and disembark at Puerto Toro to begin a walk through a native forest of coigües, ñirres and ciruelillos until almost reaching the Serrano Glacier wall. Once on the vessel, you will enjoy an aperitif with ice taken from the glacier. On our way back, you will enjoy the typical spit-roasted lamb at the Consuelo ranch. Duration 10 hours. A snack and beverages are served during the voyage. Guide-driver / Lunch-BBQ Lamb On stick / Hotel 3 to 4 stars with breakfast / Transport between all points / Navigation Fee (B, L)
Day 7: 3-Hour drive to return to Punta Arena airport, return flight to Santiago(SCL). Free evening & overnight in Santiago. Included: Flights /Guide-driver /Box lunch -bottled water / Hotel / Transport between points (B, L)
Duration of tour
6 days, with lodging in hotels and shelters.
Transfer Time

3.5 hours by plane from Santiago to Punta Arenas + 3 hours transfer to Puerto Natales.
Season
November to April.
Requirements
Physical and medical conditions compatible with the activity (Please ask questions).
What includes
Private tour (only your group with the guide).
Hotel Wesker Boutique B & B (we are very flexible so we can make a reservation in another type of hotel depending on your budget).
Flights: Santiago / Punta Arenas / Santiago.
Private transportation between all points (Includes pick up and drop off at the airport).
Personal guide.
Breakfasts, box lunch, and dinners.
Tickets to Parks and activities.
First aid kit.
Satellite phone.
Not Includes
Personal Insurance.
Outdoor personal clothing.
What brig?
To see the equipment that we recommend to bring, click here