Central Chile Hiking - Snowshoeing - Bird Watching - Road Trips
Hanging Glacier: Hiking - Full Day - Hard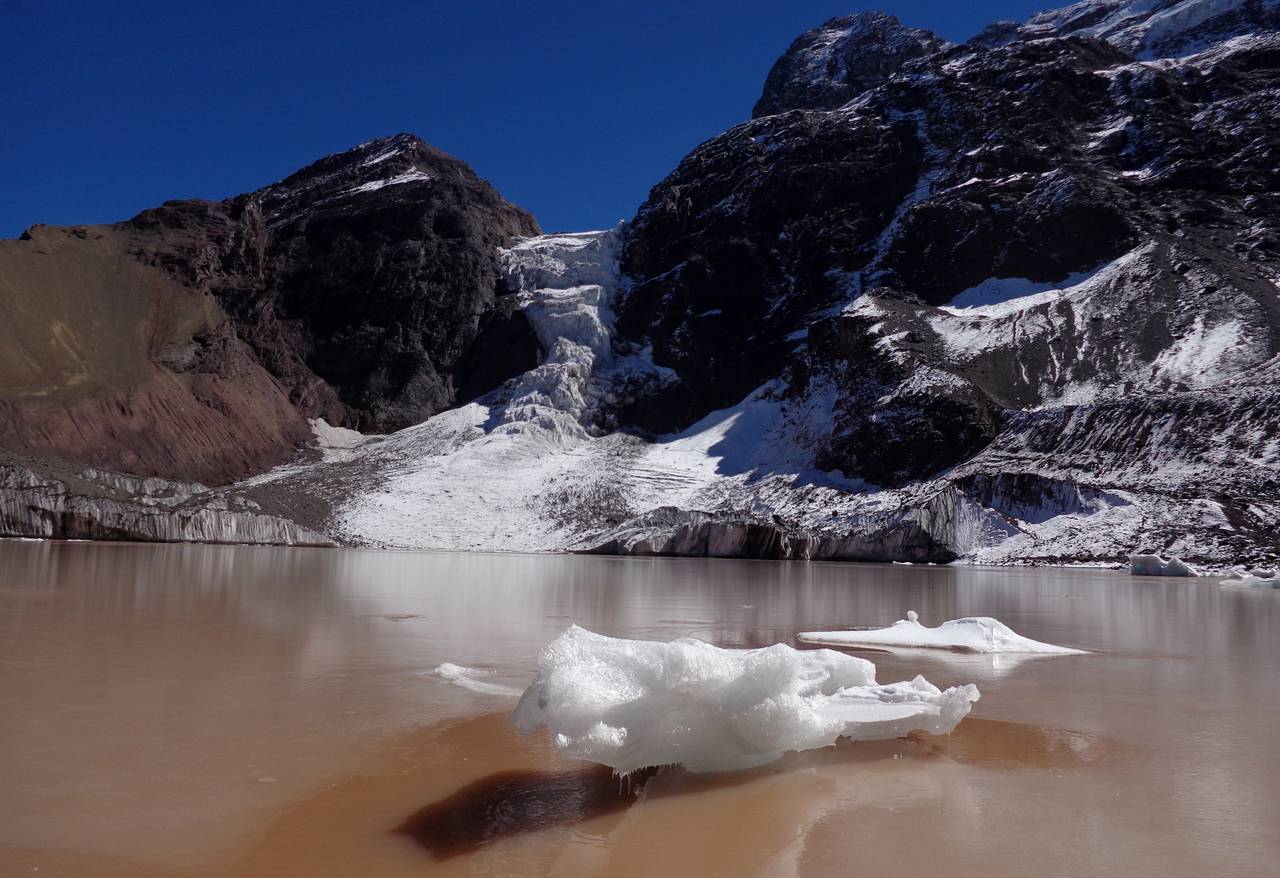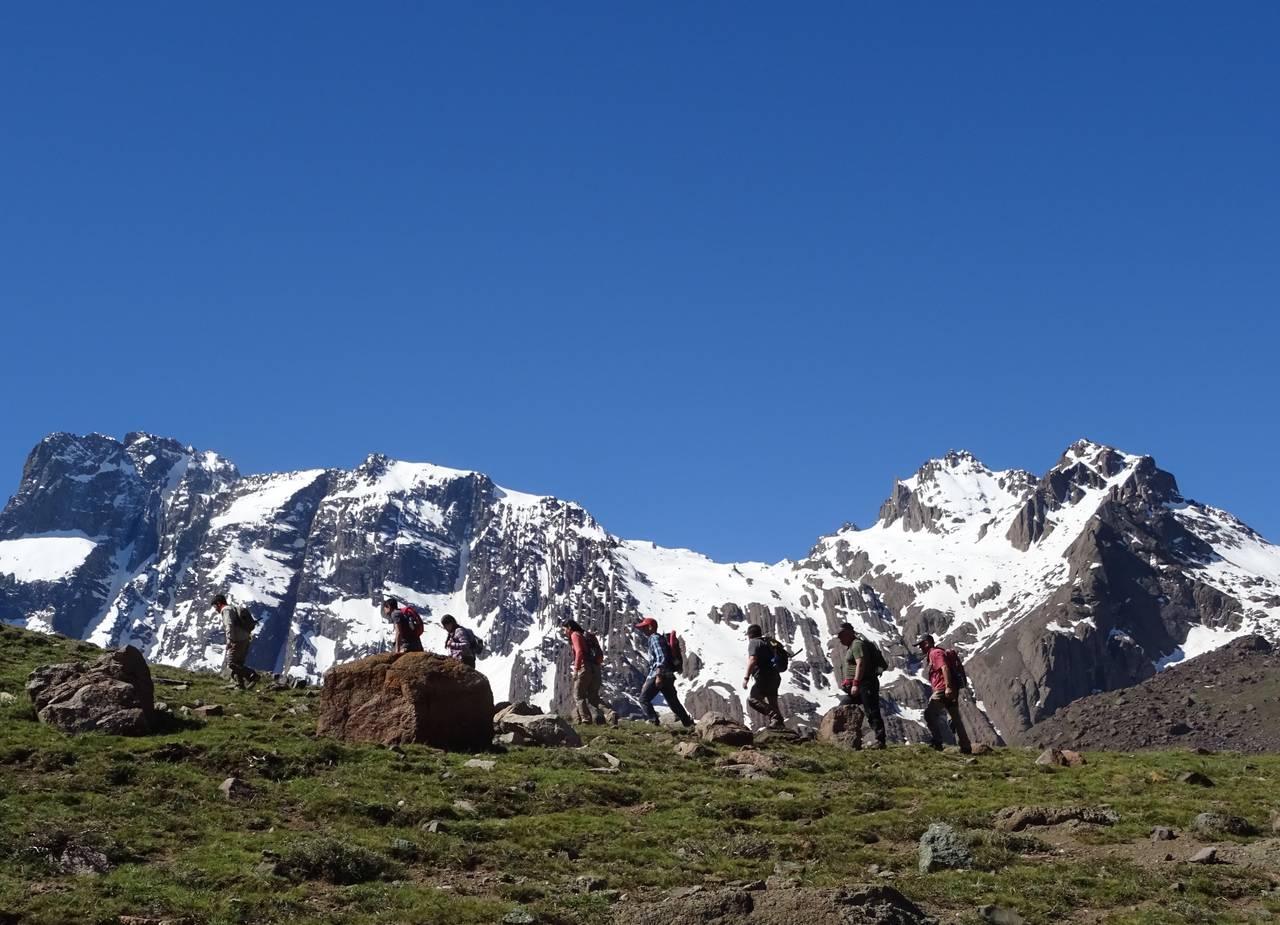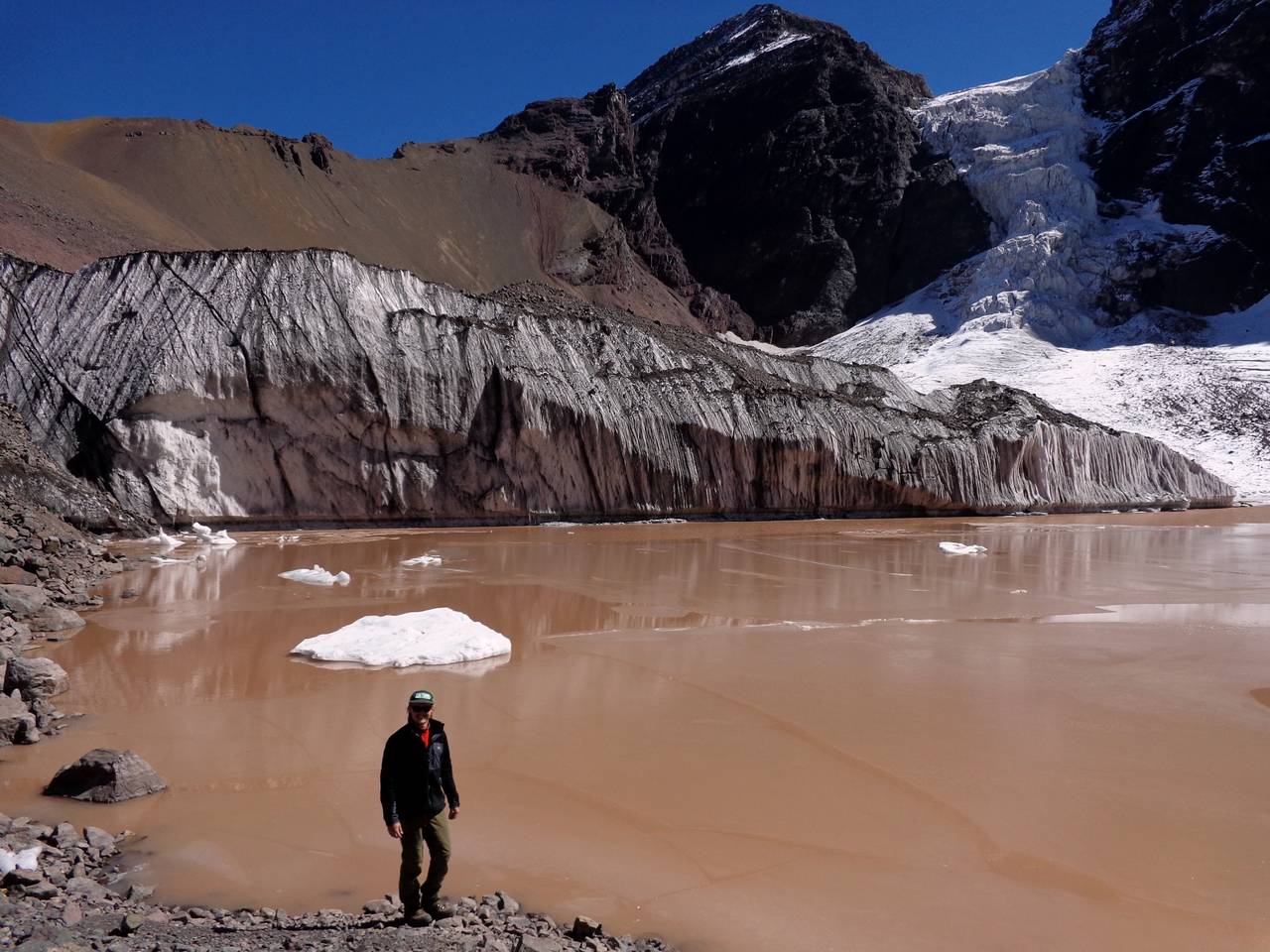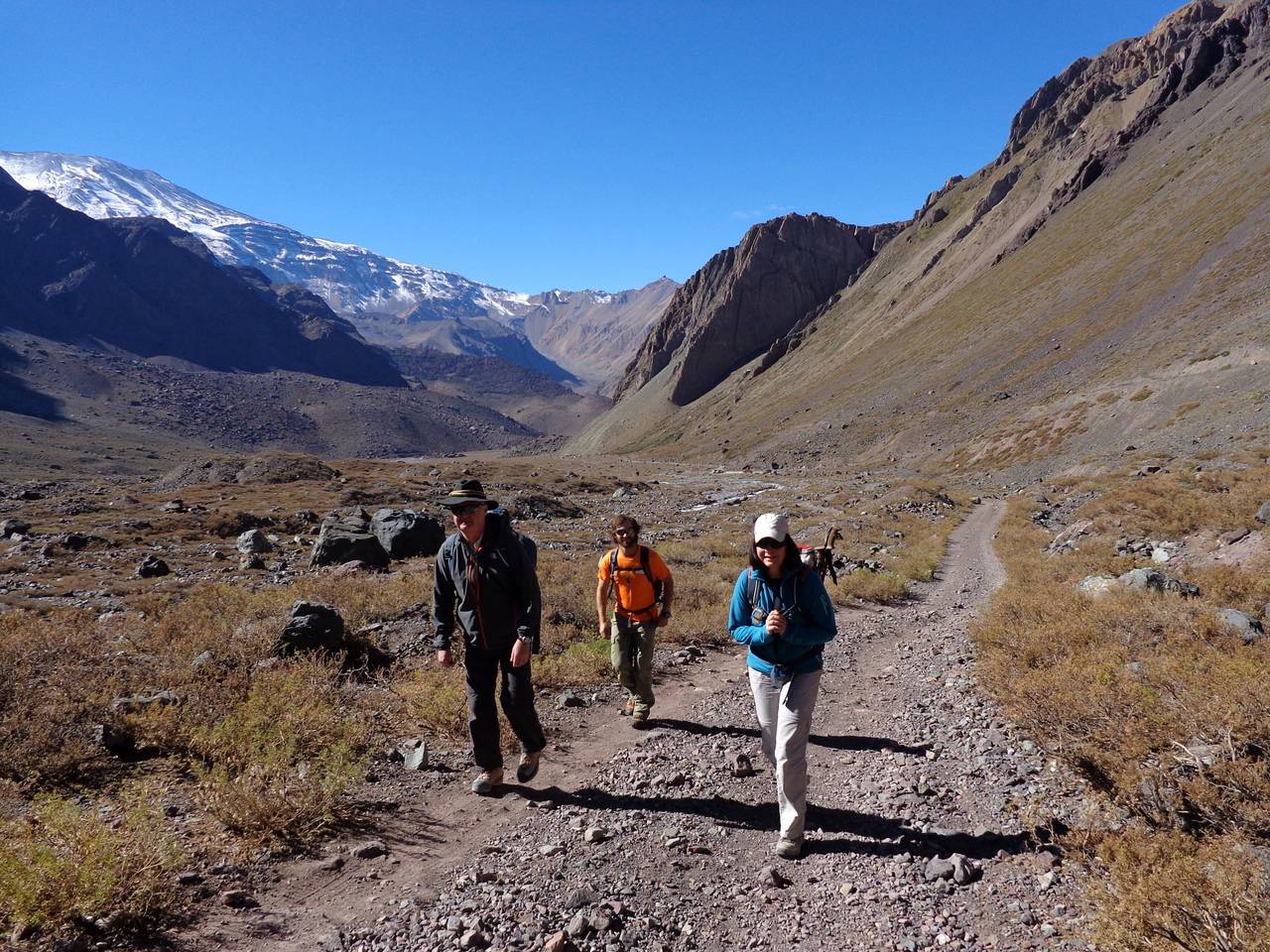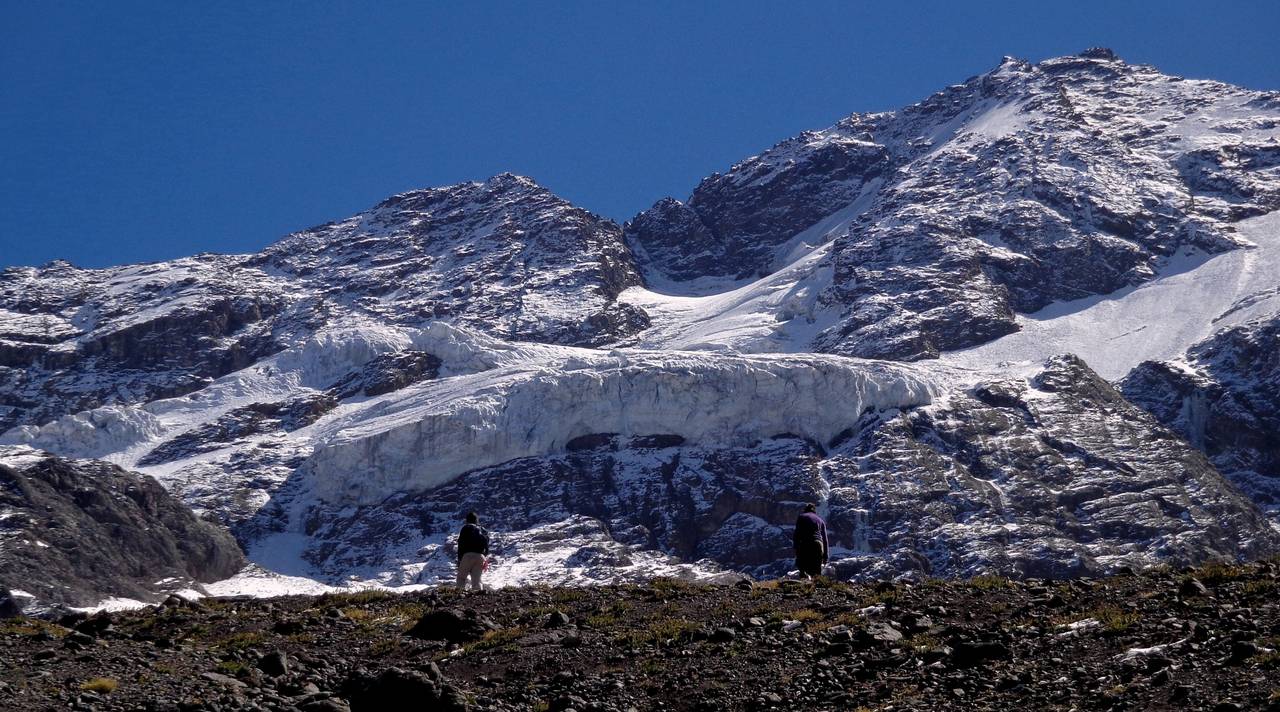 Near Santiago, huge mountains and glaciers create one of the best places for hiking in the world. One of the most wonderful of them is The Morado Hanging Glacier.
Prepare for breathtaking views of peaks of 18.000 feet, and several glaciers around you, like the hanging glacier, which falls into a lagoon. Inside the lagoon, some icebergs complete the picture!
Highlights: hanging ice at 21.000 ft/lagoon and icebergs / amazing rock walls/hike in the middle of the Andes / see the huge San José Volcano
Options: ask for an overnight trip camping at hot springs enjoying the Andean starry night in the middle of the Andes with the second day of hiking to San Francisco Glacier, press here for complete info.
Hiking time
4 hours of ascent and 3 hours of descent. 7 hours round trip (rest time has been included)
---
Transportation time
2,5 hours of transportation on the car from Santiago to the beginning of the path.
---
Technical data
Length: 6 miles 9 km (ascent) / Ramp: 3280 ft 1000 Mts / Top of the path: 10170 ft.
---
Season
Year-round. In winter snowshoes will be provided. Depending on the amount of snow on the path, hiking could be more demanding.
---
Requirements
The age of participants must be between 14 and 65 years old. The physical and medical conditions must be compatible with activity (When in doubt, please ask).
---
Itinerary
The times below are an approximation of the schedule and could vary depending on the weather and the speed of your group. A more accurate pick -up time will be delivered once we receive your pick -up address obtained through the booking process.
7:30 Pick up from your hotel lobby.
8:30 Driving into the Maipo mountain valley by a winding road. Amazing views of the mountain and the Maipo river.
10:00 Dirt road starts 4x4. You are in the heart of the Andes surrounded by imposing huge rock walls and Maipo Volcano in front of you with almost 18000 ft. Arrival to Las Arenas Valley.
10:30 hiking begins between huge rock walls of Arenas Mount. Hiking goes along the Arenas River and crossing several moraines.
13:00 Arrival to the great lookout of Morado Lagoon and glacier. Enjoy your snack watching icebergs and walls of ice.
13:30 (Optional) walk around the lagoon and see the ice wall over the water.
14:00 Descent starts. Enjoy different views of the narrow valley, the moraines, and the summits. Enjoy great views of San Jose Volcano and glaciers over it at the end of the path.
16:00 Back on the car.
19:00 Arrival to your hotel or meeting point in Santiago.
What's included
Private transportation between all the points.
Guide
Hiking poles
Lunch Box (bottled water, granola or energy bars, sandwich, fruits, cookies, chocolate)
Park fee
Pictures
First aid kit
What's not included
Personal Clothing (please check "Gear")
Small backpack (rent available)
Personal Insurance
What to bring:
Summer:
Small backpack. If you haven't, we can rent to you. (10 USD)
First layer or sport t-shirt
Polar Fleece or similar
Wind jacket
Hiking pants or similar comfortable to walk/ shorts (ask for the weather the day before)
Hiking shoes
Sunglasses
Sun hat/ lip balm
Sunscreen
Winter:
Summer gear
Down or puffy Jacket
First layer upper and lower body
Liner gloves
Wool hat
Balaclava/ Neck gator