Patagonia - Kayaking
Andean Crossing: Kayaking - 3 days - Medium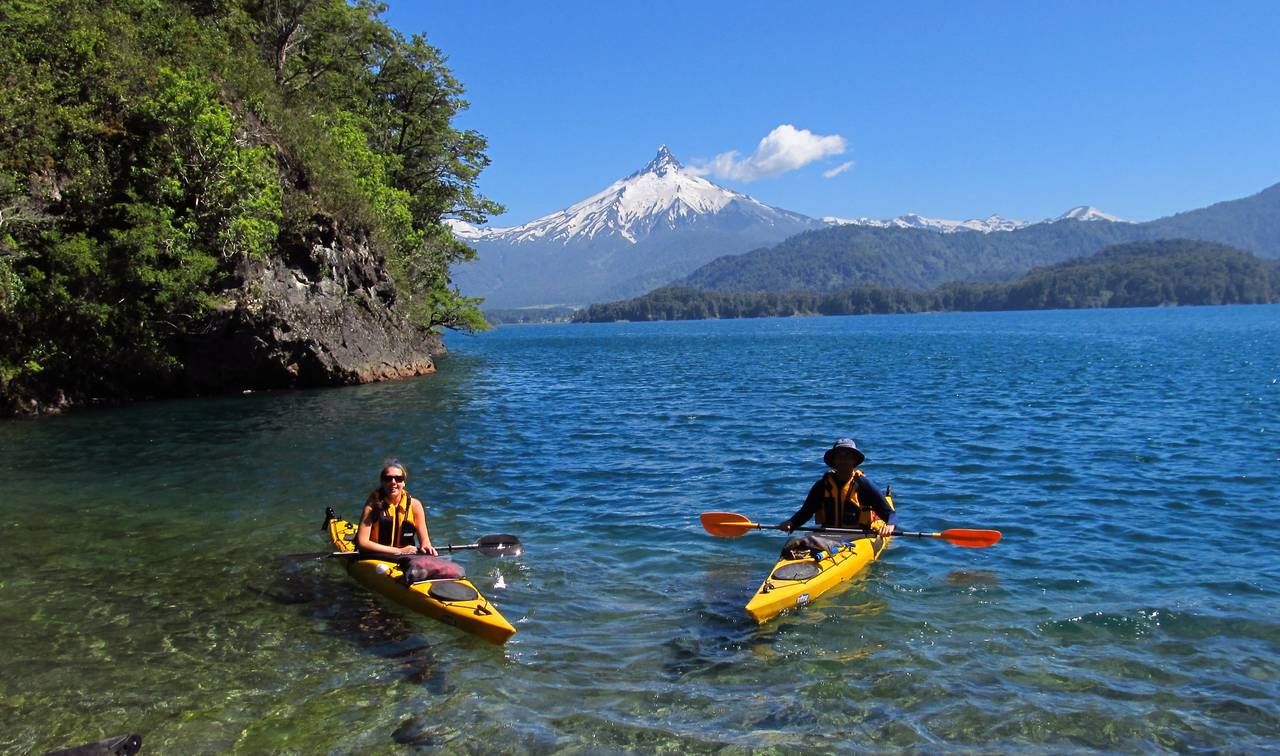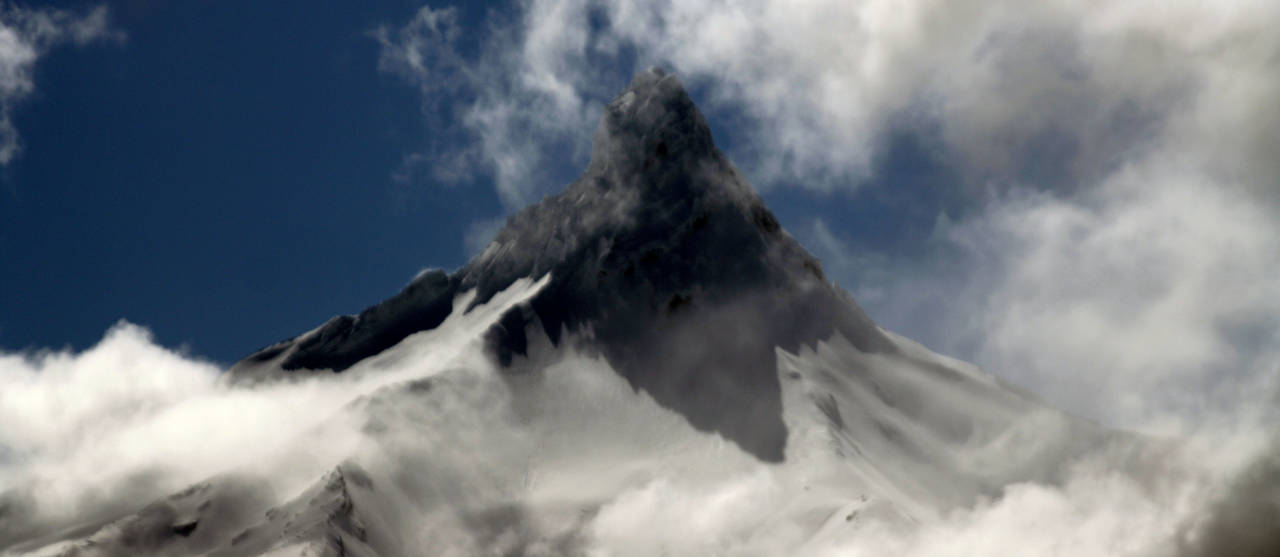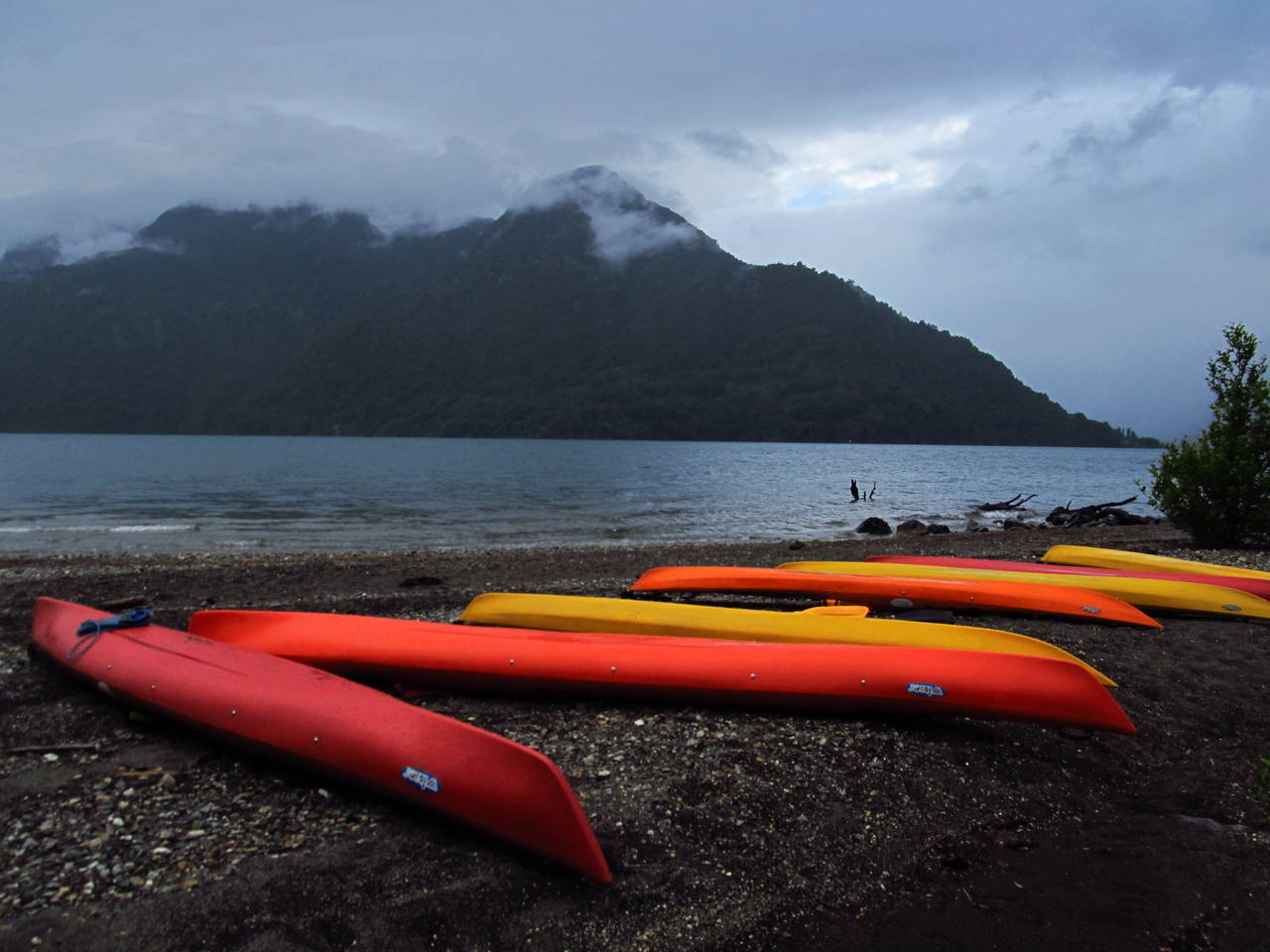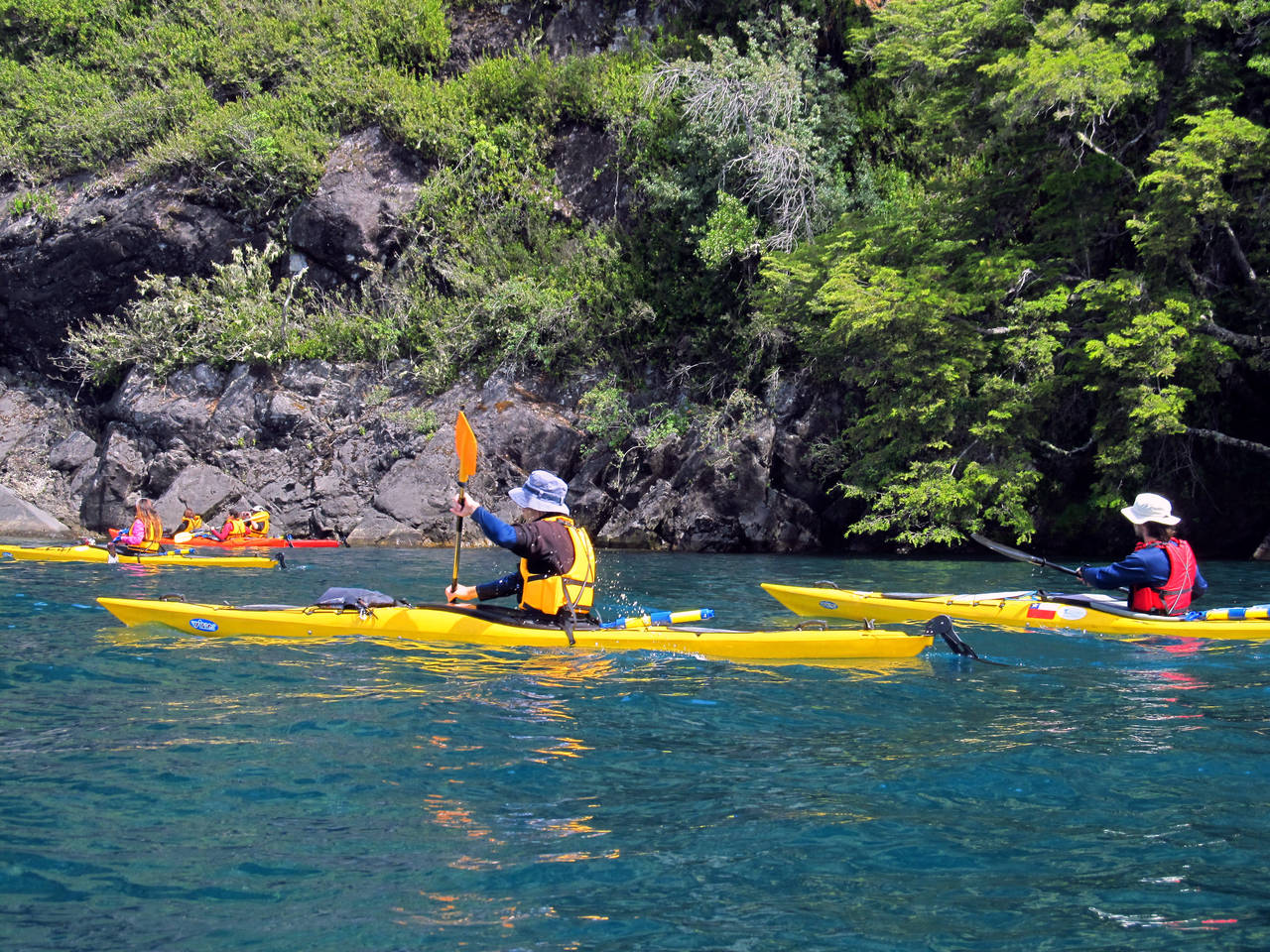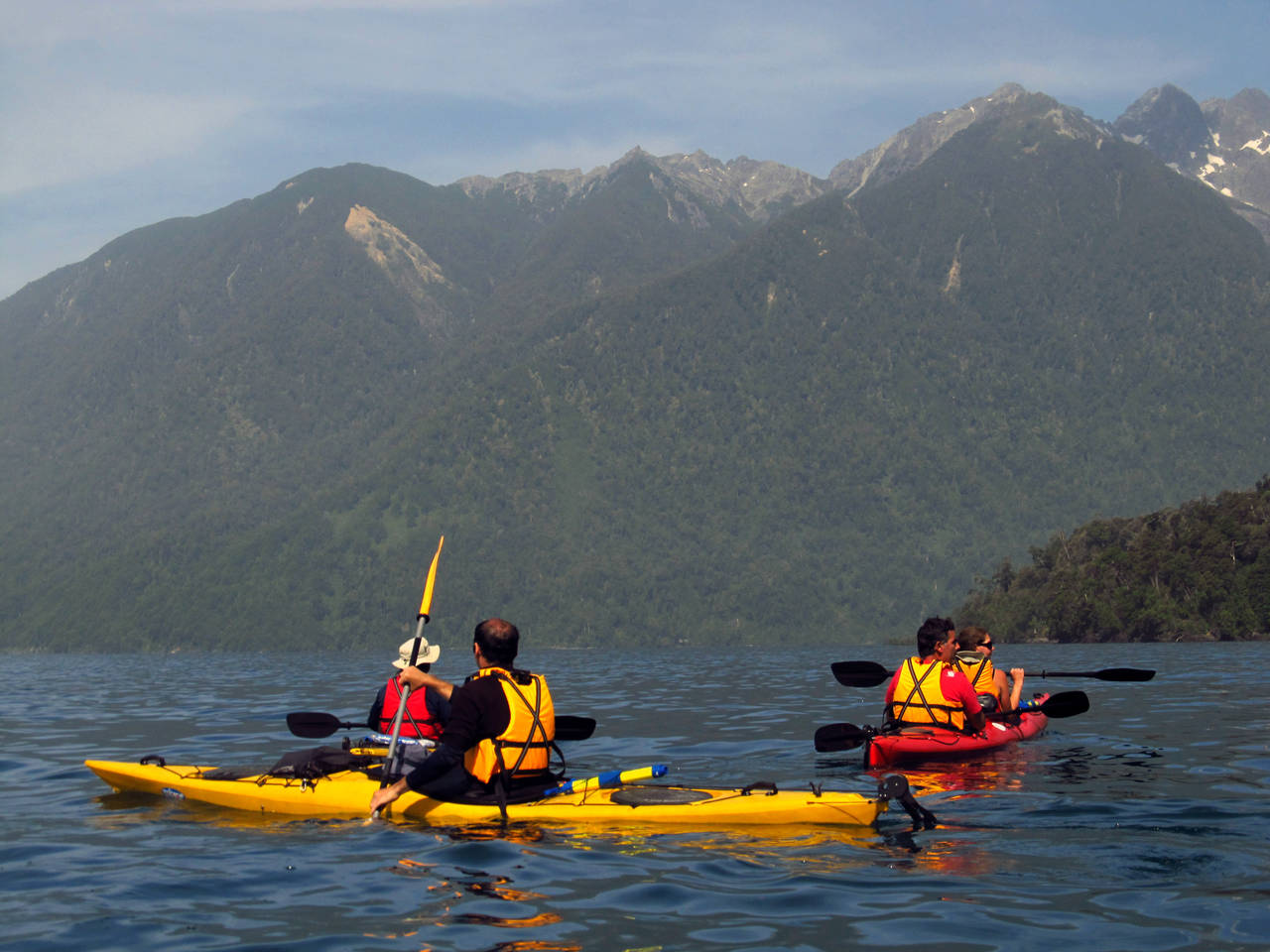 At the east of Puerto Montt / Puerto Varas when LLanquihue lake crushes with the huge Osorno Volcano, at the other side, another lake shines between volcanoes and lush pristine millenial forest. Its emerald pure waters comes from rowdy glaciers.
Maybe the peacefull of this paddling will be stopped by the noisy Tronador Volcano (Boisterous Volcano). Enjoy awesome birds like the King Fisher, the stuning view of the Puntiagudo Volcano (Sharp Volcano) or the lush cold jungle.
Come to explore Todos los Santos Lake by a nice kayaking. Todos los Santos Lake is know as the most beautiful lake of Chile.
Highlights: kayaking between volcanoes / emerald waters / waterfalls / millenial forest / one hour from Puerto Montt
Options: Go for a longer trip combining 2 days of kayaking with a hiking of 4 days crossing from Todos los Santos Lake to Rupanco Lake. On the way, hot springs, lagoons, pioneer encounters with local food and tasty BBQ and more, are waiting for you. See details in: Lakes Crossing
Hours per day: Day 1: 2,5 / Day 2: 4.5 / Day 3: 3.0
---
Transportation time
1 hour of transportation on the car from Puerto Montt / Puerto Varas to the starting point.
---
Technical data
Miles covered each day: Day 1: 5 / Day 2: 11 / Day 3: 9
---
Season
September to April
---
Requirements
Age of participants must be between 14 to 75 years old. Physical and medical condition must be compatible with activity (When in doubt, please ask). Know how to swim. Previous sea kayaking experience is not required.
Itinerary
The times on the itinerary below are an approximation of the schedule. These times could vary depending on weather and the speed of your group. A more accurate pick -up time will delivered once we receive your pick -up address obtained through the booking process.
Day 1: Forests, emerald waters, glaciers and volcanoes
8:30 Passengers pick up at Hotel in Puerto Montt or Puerto Varas in Andes Explora private transportation.
9:00-10:00 Arrive to Petrohue after the beautiful road through Ensenada. Views of the classic german architecture, the Calbuco and Osorno volcanoes, the powerful Petrohue River and the pristine forests of the Vicente Pérez Rosales National Reserve
10.30-11.30 Kayak unload, safety meeting and sea kayak techniques class.
11.30-15:30 Paddle through the clear emerald waters of the Todos Los Santos Lake, getting near the waterfalls and forests to feel the sound and smells of nature while we enjoy the views of the Volcanoes and Glaciers.
15:30 Arrive to first campsite at a beautiful sand beach. Camp set up and dinner.
Day 2: Paddling between mountains.
9.00 Full breakfast at our camp at the beach.
10.00-14.00 We will continue paddling toward east, going inside the mountain range. We will paddle near great waterfall and enjoy great views of the Tronador Volcano.
14.00 Arrive to second campsite at a beach on our way to Peulla, our final destination. Camp set up and dinner. During the night we can hear the roar of the moving glaciers in Tronador Volcano.
Day 3: Peulla and the Petrohue falls
9.00 Full breakfast at our camp at the beach.
10.00-13.00 Navigation of the last leg towards Peulla between steep forest hills and views of the high peaks.
13.00 Arrive to Peulla
14.00-16.30 Trip by catamaran from Peulla to Petrohue.
17.00-18.00 Visit to the famous Petrohue falls.
18.00-19.00 Trip by private transportation to Puerto Varas or Puerto Montt.
Warning:
This activity could include paddling in windy conditions as well choppy water, driving by land roads, sudden changes of weather.
Schedule may change due to worsening in weather.
Guides have the last call in critical decisions and required cooperation of every client.
Paddling hours are estimates based on the average client and will depend on the strength of the group and the climate conditions.
Guides are at your service, but cooperation will be needed in group tasks such as camp building, cooking and kayak carrying.
What's included
Private transportation between all the points.
Guides: 1 each 4 clients
Kayaking gear: kayak, paddle, dry bags, spray skirt, bilge pump
Lunch Box (isotonic juice, granola or energy bars, sandwich, fruits, cookies, chocolate)
Park fee
First aid kit
VHF Radio and satellite phone
What's not included
Transportation from Santiago to Puerto Varas/Puerto Montt
Personal Clothing (Please check "Gear")
Sleeping bag and sleeping pad (Rental available)
Personal Insurance
What to bring:
Recommended personal gear list aquí (Ask for english version). Rental available in sleeping bag, sleeping pad and some other items.